Employees are the cornerstones of an organization. At Codingmart, we don't build a business, we build people and they build our business. To be a team, we must be a family. Our employees constitute a family, " The Codingmart Family". It may sound cliche to few, but that's how we make our stand on our employees. We have our office, which is a home away from home for us. There are game yards that act as stress relievers and a cafe, to chill out. No one wants to lead a robotic 9 AM – 5 PM life. That's why we have flexible working hours to let our Codingmart family lead a diplomatic life.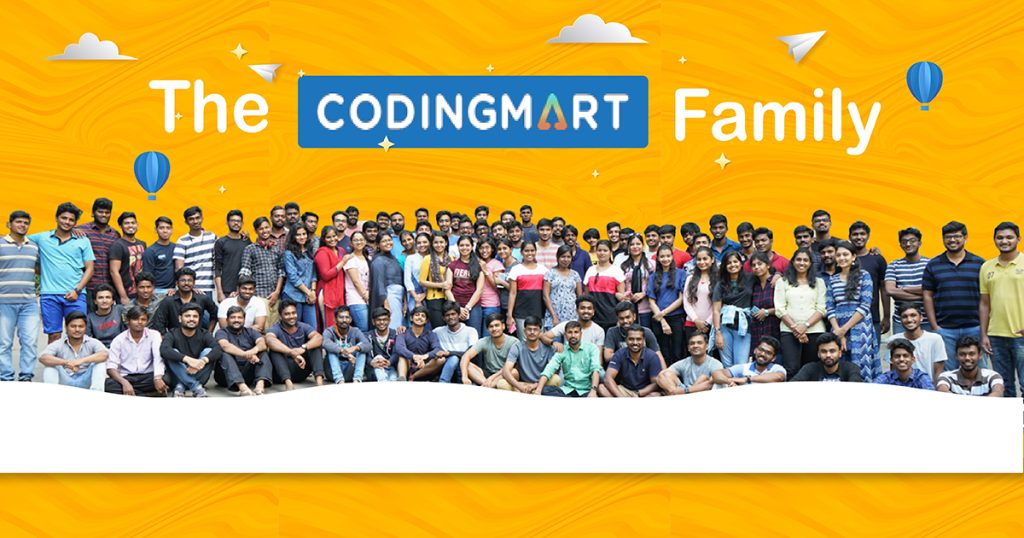 A team is considered charismatic and progressive only when it is difficult to identify who is boss among the team members. We strictly rely on the above statement. That's why there is no senior-junior, boss-subordinate like culture at our workplace. Everyone is valued the same. You will be known by your work, not by your experience or age. Each and every team as well as members are given special attention so as to create a stress-free and peaceful environment. If anyone is stuck on a problem, there are always plenty of people around. Every relationship is healthy at Codingmart. No formal dress code, occasional team outings are some other perks that we offer. Office Politics you ask? We never knew its meaning. 
"Codingmart is a blessing in disguise" for freshers. An extremely fast paced environment that keeps an eye on industry upgrades and adapts accordingly has been the spotlight for freshers and Codingmart aces at it.  To construct a team that adapts to the above environment is quite arduous. Thanks to our experienced recruitment panel that has framed strategic ideas to identify such talents. We don't believe in the regular aptitude and MCQ rounds that other companies follow to hire. Ours is a more lively and reliable process. One would be dumbstruck upon knowing how sublime our hiring process is. It has been posted as a separate blog on our website. Click here to check it out.

Everyone at Codingmart is easily accessible. You want to speak to the CEO? Reach out to him. He's a welcoming personality and is always open to ideas. Nothing will pose a hindrance to meet anyone at Codingmart.
Nothing feels more satisfying than filling an empty stomach with palatable foods. There is no problem even if you skip your meals at home. Eggs, Maggi, Chips, Bread, etc., are always there to refuel you and make your day remarkable. We never let our employees work with empty stomachs. That's the motherly care we offer.
Encouragement paves the way to develop and bring the best that is in a person. That's something each and everyone in our Codingmart family does wholeheartedly. You achieve something, you'll receive appraisals from all selflessly and you are encouraged to do more. You haven't achieved anything? No worries, you'll receive the same encouragement to achieve something. This is a pitch-perfect example to denote the positive vibes around a Codingmart family member.
We aren't always keen on working. That's why we have fun Fridays, motivational Mondays, and many more to keep everyone engaged and refreshed.  Occasional team outings, Tours, etc., are some other perks we do offer to create an emotional connection between each other and mimic a home and family.
COVID-19 has physically distanced us. Though we are virtually connected, the exhilarating office environment, soul-stirring coffees, quirky talks with colleagues, Late Night Biryanis are few things that we are craving for. One cannot get such a homely experience elsewhere. No matter what role you are assigned, where you are from, how many years of experience you have, Codingmart never fails to fulfill your expectations.